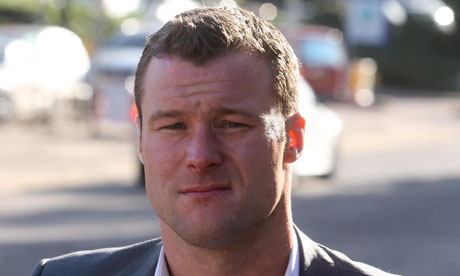 A police force is considering disciplinary action against an officer accused of "grooming" a teenage girl following an investigation by social services.
Matthew Rees, 32, remains suspended from duty as a constable with the City of London Police while senior officers consider misconduct charges against him.
The officer, who has denied any wrongdoing, was arrested in December last year and charged with possessing indecent images of a child after explicit pictures of the girl were found on his phone.
A social services report, seen by the Guardian, concluded that Rees had subjected the girl – whom he met when she was 15 at their local swimming club – to a "powerful process" of grooming.
But the Crown Prosecution Service abandoned the case this week after a judge at Chelmsford crown court asked them to review it.
The decision comes less than a year after Keir Starmer QC, the DPP, claimed a watershed moment had been reached in the prosecution of sexual offences against children and young people in the wake of the Jimmy Savile affair, saying vulnerable victims had been treated in the past with a "degree of caution which is not generally justified".
The Rees case also comes against the backdrop of concern among senior police officers and the police complaints watchdog about sexual misconduct by officers.
The Guardian revealed in August that 169 officers and staff are under investigation for inappropriate relationships and sexual misconduct offences.
The girl's father said: "This man had 24 images on his phone of my daughter which were deemed to be indecent by lawyers when they viewed them in December. Now suddenly after the judge raises questions they are not proceeding against him. It seems that while under the Sexual Offences Act 2003 you are considered a child until you are 18 the agencies employed to enforce the law don't uphold that.
"If you are a girl aged between 16 and 18 you seem to fall into some legal black hole."
The parents are also unclear why charges relating to alleged grooming were not pursued against Rees.
"We are extremely disappointed and we don't understand why he was not charged with a grooming offence," said the girl's mother. "He met her when she was 15. He is a 32-year-old man who as a police officer is in a position of trust and authority. When my daughter asked if what they were doing was wrong, he told her it was not wrong. When it all came out and I talked to her about it, she said: 'Mum he is a police officer, I trusted him'.
"The judge has opened it up for men to think it is OK to target girls when they are 14 or 15 and then wait until they turn 16 and have sex with them."
The relationship between Rees and the girl emerged after an anonymous call to social services last year in which the caller said they were concerned about the relationship. Officers from Essex police child protection command began an investigation into whether there were elements of grooming the girl and other young people.
Essex Social services produced a report in which they concluded: "X has been groomed by Matt Rees and … this has been such a powerful process that there was nothing the parents could have done to prevent this from happening." But social services said the girl had made no disclosures of any sexual activity taking place prior to her being 16.One aspect of the case examined by detectives was how the girl came to be in possession of two pay-as-you-go mobile phones. Officers are also known to have spoken to at least one other young woman whom Rees allegedly started a relationship with when she was in her mid teens after apparently meeting her at the same Amateur Swimming Association club.
Forensic examination of phones in the case revealed that the girl involved in the latest case had sent 24 images to Rees which he held on his phone for several months. They were considered to be level one indecent images (meaning they included erotic posing but no sexual activity), and he was charged.
But at a hearing earlier this month Judge Anthony Goldstaub QC called for the case to be reviewed – resulting in the CPS dropping it on Monday.
Andrew Jackson, prosecuting, told the court: "Disregarding the nature of a relationship between a 32-year-old man and a 16-year-old girl, it seems we would have difficulty, evidentially, proving to a jury that the images were indecent.
"That being the case, it has been decided that there is no realistic prospect of conviction.
"In the circumstance, we offer no evidence."
Rees was present in court to hear that the charge had been dropped. His lawyer Andrew Compton said: "My client was in a perfectly legitimate relationship, although there was a significant age difference.
"The photos were neither requested or indecent. At no stage has he ever sought to abuse his position.
"These proceedings have been hanging over him for many, many months and a stain on his character is one which we hope now will begin to go away.
"It has been a difficult time for him and his family."
A spokesman for City police said a review of the evidence was being carried out to assess the grounds for pursuing a misconduct hearing.
"City of London Police expects all its officers and staff to uphold the highest professional standards and will deal with those employees who fail to meet those standards with appropriate disciplinary action," the spokesman said.
Russell Haldane, the solicitor who represents Rees, said it would be inappropriate to make further comment at this time.
Essex Police refused to comment. The Amateur Swimming Association was approached but did not comment.
Jim Gamble, an expert in the investigation of grooming cases, said he had concerns about the case. "It is deeply concerning given the fact that the child was 15 when they first engaged in a relationship and that as a police officer he was in a position of trust and authority.
"In child sexual exploitation cases very often the evidence is contained on the technology that the perpetrators hold."
The CPS said lawyers had considered a grooming charge under section 15 of the Sexual Offences Act – meeting a child following sexual grooming – but it was decided there was insufficient evidence to support it.